News, Events & More
Class of 2021 2/C Parent Weekend
Posted: 3/19/2019
Class of 2021 2/C Parent Weekend will be Friday 13 September to Sunday 15 September in Annapolis and the 2/C Parent weekend website will be updated with all the details by USNA in the next few days, please bookmark this website for updates and the official schedule when released. Naval Academy 2/C Weekend: https://www.usna.edu/2CParentsWeekend/
Dark Ages Care Packages
Posted: 1/30/2019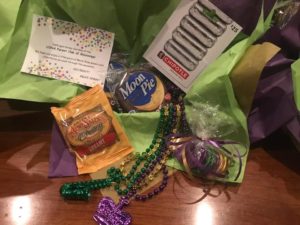 To help our Midshipmen beat the Dark Ages (really cold, dreary northern weather) the USNA MS Parents' Club mailed out care packages to our Mississippi Midshipmen and NAPS Appointees this week.  They each received a $25.00 gift card to Chipotle Mexican Grill, pralines, moon pies, chocolate coins, and Mardi Gras beads.  We hope our southern Midshipmen are staying warm in the northeast with the crazy polar vortex that has us all in its grip right now. Thank you to the parents who join the club you make it possible to send care packages to all our Mids.  Just five more weeks until SPRING BREAK for our Midshipmen. We hope they all enjoyed a bit of Mardi Gras!
Go Navy!
December 28, 2018 Christmas Dinner
Posted: 1/4/2019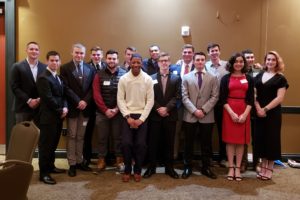 The USNA Parents' Club of MS hosted the annual Christmas Dinner with 95 people in attendance at Table 100 in Flowood, MS. Present were 13 Midshipmen, 14 Candidates to include one from the Naval Academy Preparatory School and two from other Foundation schools, and their families.  We presented US Flags flown over the United States Capital on the Navy's Birthday in their honor to our First Class Midshipmen in attendance. We also presented Lt. Governor Proclamations to the Second Class Midshipmen for signing their 2 for 7 commitment to the US Navy or Marine Corps (two more years of school and 5 years of service).   We celebrated our Midshipmen and our NAPS and Foundation Candidates that were in attendance and were able to give each Midshipman a small gift.  It is wonderful to be able to get together and get to know each other better.  The Parents' Club hopes everyone who was able to attend had a wonderful evening.
Special guests in attendance included Steve Guyton from Congressman Guest's office, Bruce Proctor, David Carter and Lake Ellis, Blue & Gold Officers, and Robert Smith from Congressman Guest's Office.  We hope to see everyone at the next gathering.
Happy New Year!
Go Navy!
"Don't Give Up The Ship" Parent gathering
Posted: 10/1/2018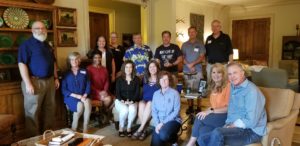 The Mississippi Parents Club hosted our first "Don't Give Up The Ship" gathering hosted by the Garbo family (class of 2019) on Sunday.  It was a wonderful afternoon getting to know each other better and share our journey as Mid parents. We look forward to seeing everyone December 28, 2018 at the annual Christmas Dinner.  Go Navy!
Parent Club Officer Conference
Posted: 7/20/2018
The 26th Annual Naval Academy Parent Club Officer Conference will be held at the Naval Academy in Annapolis in September of 2018.
For details such as registration and agenda, please visit the USNA Parents Club website: 2018 PCOC.
Parent Club Meeting
Posted: 7/10/2018
The meeting of the local USNA Parents' Club of Mississippi was held on June 9, 2018. The annual Hail & Farewell Luncheon was held at Mama Hamil's,  751 US-51, Madison, MS 39110.  We had a wonderful time meeting the class of 2022 and our NAPS/Foundation Appointees.  There were 46 of us in attendance; we are a small but mighty bunch of proud Mississippi families.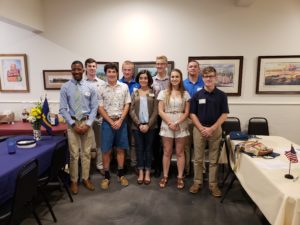 We will have our next meeting in December date and time to be announced so stay tuned.  We look forward to seeing everyone in December!
Hello Everyone!
Posted: 3/15/2018
Welcome to USNA Parents Site for Mississippi families.
We are excited to have our parents' club website up and running.  The parents' club is here to assist and support our Navy families.
If you have question or we can be of assistance please contact us at: usnapcms@gmail.com