News, Events & More
Congressman Steven M. Palazzo Fourth District of Mississippi
Posted: 8/14/2018
Presents: Academy Day 2018 Saturday, October 6th, 2018 8:00 a.m.-11:00 a.m.
Academy Day 2018
Saturday, October 6th, 2018
8:00 a.m.-11:00 a.m. (Registration 8:00– 8:30 a.m.)
Mississippi Gulf Coast Community College
Hospitality Resort Management Center
420 Debuys Road, Biloxi, Mississippi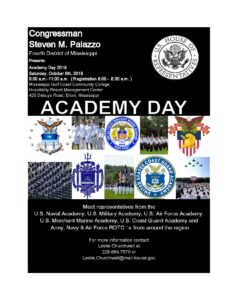 Meet representatives from the U.S. Naval Academy, U.S. Military Academy, U.S. Air Force Academy, U.S. Merchant Marine Academy, U.S. Coast Guard Academy and Army, Navy & Air Force ROTC's from around the region.
For more information contact
Leslie Churchwell at
228.864.7670 or
Leslie.Churchwell@mail.house.gov
Parent Club Officer Conference
Posted: 7/20/2018
The 26th Annual Naval Academy Parent Club Officer Conference will be held at the Naval Academy in Annapolis in September of 2018.
For details such as registration and agenda, please visit the USNA Parents Club website: 2018 PCOC.
Parent Club Meeting
Posted: 7/10/2018
The meeting of the local USNA Parents' Club of Mississippi was held on June 9, 2018. The annual Hail & Farewell Luncheon was held at Mama Hamil's,  751 US-51, Madison, MS 39110.  We had a wonderful time meeting the class of 2022 and our NAPS/Foundation Appointees.  There were 46 of us in attendance; we are a small but mighty bunch of proud Mississippi families.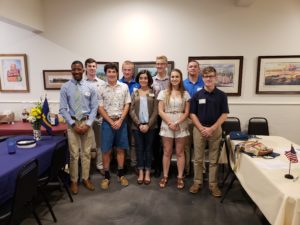 We will have our next meeting in December date and time to be announced so stay tuned.  We look forward to seeing everyone in December!
Hello Everyone!
Posted: 3/15/2018
Welcome to USNA Parents Site for Mississippi families.
We are excited to have our parents' club website up and running.  The parents' club is here to assist and support our Navy families.
If you have question or we can be of assistance please contact us at: usnapcms@gmail.com