News, Events & More
Updated Fall 2020 USNA schedule
Posted: 10/21/2020
https://www.usna.edu/Academics/_files/documents/calendars/211f_annotated.pdf
2020-2021 Membership Forms
To become a member of the 2020-2021 USNA Parents' Club of Mississippi click:
2020-21 USNA Parents' Club of MS Membership Form
Updated Spring Semester 2021 Schedule
Dear Parents and Families:

DEPARTMENT OF THE NAVY
UNITED STATES NAVAL ACADEMY 121 BLAKE ROAD ANNAPOLIS, MARYLAND 21402-1300

With an established timeline for the fall semester we are looking to provide some granularity to the spring semester to allow early planning with the caveat that as the COVID-19 environment evolves adjustments may be required.
The first day of class for the spring semester will be 19 January 2021. This late start allows more leave over the Winter break and facilitates a phased return of the brigade in early January. Due to the realities of travel and Restriction of Movement requirements, this later start to the spring semester is enabled by absorbing the traditional spring break days early in the semester before the start of classes. Three day weekends will be retained through the spring semester…18 January, 15 February, and 5 April.
The spring term will end on 5 May 2021 and be followed by exams leading into a Commissioning Week and graduation on 28 May 2021.
As always the health and safety of our faculty, staff, coaches, and midshipmen is paramount. Thank you for your continued support as we navigate uncharted waters.
Respectfully,
S. S. BUCK
Vice Admiral, U.S. Navy Superintendent
I-Day 2024 Map
Posted: 6/19/2020
I-Day 2024 Details
Dear Parents and Candidates of the Class of 2024,
First off welcome to the family! Thank you for your patience during these trying times as we work to coordinate the induction of your sons and daughter to the United States Naval Academy. In order to safely and effectively indoctrinate the Class of 2024 we have vastly modified Induction Day in order to ensure maximum COVID prevention measures. Steps taken include spreading out the induction over FOUR days, less candidates per report time, effective social distancing measures, as well as many others. This is for your safety, the safety of our staff, and safety of our incoming Plebes. We cannot do this alone and ask for your help. In order to further reduce the spread of COVID-19 we are asking you to utilize the following drop off measures for your candidates:
Drop off via privately owned vehicle (POV) at Alumni Hall (preferred method)

Access to USNA via POV will be permitted via Gate 8 in order to drop off the Class of 2024.
Security requirements dictate you shall provide identification for the entire POV as well as the candidate's

Permit to Report Letter sent by Admissions. Either an electronic or hard copy will suffice.

You will then be allowed to drive from Gate 8 to the Alumni Hall lot and drop off your candidate. You are

not permitted to exit the car in order to prevent the spread of COVID-19 between family units.

After dropping off your candidate you will be routed back through Gate 8 to exit USNA.
We ask that you arrive at Gate 8 NET 15 minutes before your candidate's scheduled report time in order

to minimize traffic impact to USNA and Annapolis. We understand there will be some earlier based on

travel accommodations.

This option is for candidates showing up on their designated report date.

Drop off via walking gate entrance at Gate 1, 3, or 8

We will have uniformed personnel available at each walking gate entrance who will be standing by to

escort your son or daughter to the appropriate location.

These personnel will conduct a COVID medical questionnaire and contactless thermometer check prior to

escort. Any issues will be forwarded to our medical staff for further review.

After drop off we ask that you do not wander around USNA grounds in order to minimize potential spread

of COVID.

Shuttle Bus at BWI Airport

This option is available for any candidate flying into BWI.
Signs and a Hospitality Desk manned by uniformed staff will be available near baggage claim 14 of BWI

(near International baggage claim).

No families are allowed to utilize this service.
Information regarding the shuttle service is available in section IV of your candidate's Permit to Report

Important Information Booklet.

Once again thank you for your support of USNA and your candidate during these tough times. We are doing our
best to ensure the safety of all of the Class of 2024 and the entire Brigade of Midshipmen. We appreciate your continued support of the Naval Academy mission!
CORY F. OBERST LT USN 2024 INDUCTION DAY COORDINATOR
Key Identification to Bring on Induction Day:
SSN
Passport (if you have one, if not no need to get a new one)
Birth certificate (original, used in case of lost IDs)
Dependent CAC cards (if applicable)
Prior active duty CAC cards (if applicable)

It is crucial that these items are not left with your parents on I Day after drop off. Ensure you have these separated
from your personal bag. This will ensure efficient in processing on I Day. We recommend you place identification in a gallon size Ziploc bag in order to quickly separate from your luggage.
Early Lodging Meal Payment
If you are residing in Bancroft Hall the night before your Induction Day report date AND will be needing to eat a
meal while staying in Bancroft Hall you are required to pay in advance via the following link (password PLEBE2024):https://navyperforms.showare.com/eventperformances.asp?evt=167
Breakfast will be provided the morning of your report date at no cost. You will only be required to pay for lunch and/or dinner based on your anticipated arrival time at Bancroft Hall the day before your report date. It is recommended you eat prior to arriving at Bancroft Hall (at the airport or in town if possible). If you are unable to pay ahead of time we will be able to coordinate payment to ensure everyone is adequately fed.
PTR Reminders
We strongly recommend rereading your entire Permit to Report Packet prior to traveling to USNA. There are key items throughout that are necessary to in processing on Induction Day. Below are several crucial items:
Bring a pair of broken in running shoes! These will be essential during your two week quarantine as we will not be able get you fitted with running shoes until after your quarantine.
Please bring your medical paperwork, medication, travel vouchers, receipts, and direct deposit slip and keep them in a separate location that is easy to be removed from your personal baggage to allow for quick turn in.
Haircuts: All candidates are reminded to show up in satisfactory hair standards promulgated previously. This will ensure the safety of you and our staff on Induction Day. Hair standards are available in section IV of your Permit to Report Important Information Booklet.
PTR Paperwork: follow your Permit to Report Checklist very carefully. We recommend bringing all PTR paperwork with you in a folder or large envelope on Induction Day. This will allow efficient collection of key items during your in processing. Key items include:

Agreement to Serve (2 copies)
Service Member's Group Life Insurance
Record of Emergency Data
Private Insurance Understanding
SF-86
Alumni Association Forms
Welcome to the Class of 2024; Farewell to the Class of 2020
Posted: 6/15/2020
Thank you to all our families that came out or attended virtually on Saturday 6/13/20 for the annual Hail & Farewell Luncheon!  Mississippi has twelve appointees that will start their plebe year in July and two will enter Naval Academy Preparatory School (NAPS) in Newport, RI.  We welcome you into the Naval Academy Family. We wish the Classes of 2024 and 2025 all the best and hope they have a fun and exciting roller coaster ride with no terrifying plunges. The Parents Club also voted for the 2020-2021 board members the Scribner family (class of 2022) and Currie family (class of 2023) thank you for volunteering and keeping the parents club running. We are in need of more parents to volunteer for the board; if you are interested please contact us at usnapcms@gmail.com.  We wish our 2020 Ensigns and 2ndLt's all the best as they join the fleet and start their Navy/Marine Corps careers.  We are proud of all our Mississippi Midshipman and Officers and thank each one of them for their service. Fair winds and following seas.
Go Navy!⚓💙💛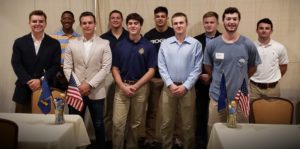 6/13/20 Midshipman and Appointees in attendance at the Hail & Farewell Luncheon.
Hail & Farewell
Posted: 5/31/2020
2020 USNA MS Parent's Club Hail & Farewell luncheon Inv_.docx – Google Docs
Dark Ages Care Packages
Posted: 2/5/2020
Thirty-two Mardi Gras themed Dark Ages boxes are packed up and will ship out this week!
Thank you to all who support our Mids, Napsters, and foundation school students through membership in the USNA Parents Club of MS. We couldn't do this without you!
Special thanks to Michelle Smothers (Midshipman Fridge' s mother '20)  for all her hard work on preparing the care packages and getting them in the mail.   Spring break is right around the corner; until then we hope the box of  Mardi Gras brighten their day.  Go Navy!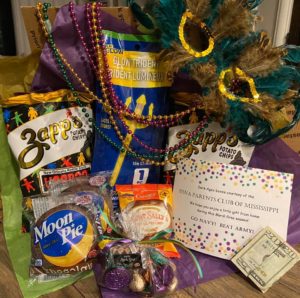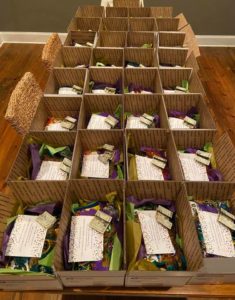 National Signing Day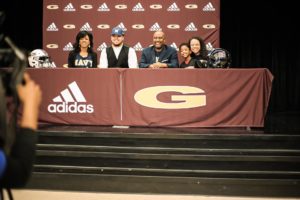 It's National Signing Day and Jacob Greenwood from Madison, MS officially signed with the United States Naval Academy to play football with the Class of 2024. Congratulations to the Greenwood family!
GO NAVY!!!!
Congressman Michael Guest Academy Day April 4, 2020
Posted: 1/28/2020
Military Academy Day Flyer 2020
Please see the link above to the Academy Day Flyer for Congressman Guest. This is a free event for all high school students who are interested in attending a service academy.